Are you ready to represent the university in the world's biggest Model United Nations in New York?
Update academic year 2023-2024: our prestigious NMUN delegation has been formed! See below the steps to apply for the NMUN delegation of academic year 2024-2025. Keep in mind the dates may vary in the upcoming year.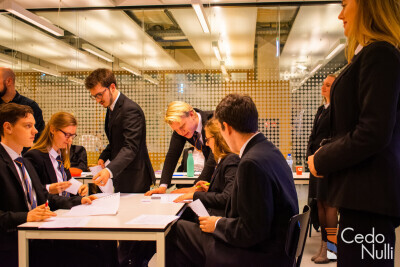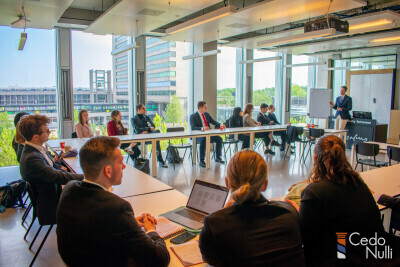 Are you an ESSB or EUC student who is interested in discussing global issues, courageous enough (or would like to be) to speech in front of hundreds of people, motivated to develop your diplomatic and negotiating skills and eager to participate in the largest Model United Nations at the UN Headquarters in New York? Then we would like to invite you to apply to join our prestigious NMUN delegation!
Each year Cedo Nulli participates on behalf of the Erasmus University Rotterdam (EUR) in NMUN's New York conference. Our highly motivated delegation will represent a UN Member State during the conference and interact with students from all over the world. Over the course of seven months, students will hone their skills under the guidance of two experienced former delegates and numerous prestigious guest speakers. Last year this included ambassadors, renowned negotiation experts and former prime minister of the Netherlands, Jan Peter Balkenende.
Preparations for the NMUN simulation consist of weekly trainings on Wednesday evenings. We will discuss topics like 'What can we do through the UN to address global issues such as climate change?' and 'How can we best represent a Member State's interests, even when we don't agree?' Acquiring practical skills in lobbying, negotiating, public speaking and resolution writing will form the largest part of the preparation process. This means that the program is not just for aspiring diplomats, these skills can be useful for anyone else too!
What are we looking for in a delegate? 
Ambition: the desire to achieve, both individually and as a group;
Motivation: willing to improve yourself every single week and
Cooperation: the ability to work together, both in duos and as a group, to build on each other's ideas and benefit from each other's perspectives in an open way;
Affinity with international politics / diplomacy / global issues.
How to apply?
Send your motivation letter (max. 1 A4) and CV (max. 2 A4) to nmun@cedonulli.nl before Friday September 15th 23:59h.
Based on that, we will make a first selection. Selected candidates will participate in a simulation on the evening of either the 19th or the 21st of September. Please keep these evenings free!
Key dates and deadlines for your application
11th of September (19:00 - 21:00h) - NMUN Interest Drink
15th of September (latest 23:59h) - Submit Motivation Letter (max. 1 A4) and CV (max. 2 A4)
19th or 21st of September (evening) - Simulations (round 2)
Do you still have questions about NMUN, or do you simply want to know more about the application process? Attend the NMUN Interest drink on 11th of September 2023 in Locus International from 19:00! This way you can get to know the trainers and the board of Cedo Nulli! Please also follow us on instagram for any updates @nmunerasmus! You can also always reach us via e-mail at nmun@cedonulli.nl; we will respond to all your questions as quickly as we can.
Total costs, including trainings, travel, and stay, are € 750,- per delegate. We have good hopes that the pandemic will not significantly affect our trip, but if we will not attend the physical NMUN conference in New York these costs will be (largely) refunded. We might still charge a smaller fee for a trip closer to home. There are many different factors influencing such possibilities and we will communicate such alterations regularly in a transparent fashion throughout the year.
Lastly, you can watch this short video about NMUN to get a glimpse of what you will experience during the conference.
See you soon!
The NMUN Trainers and Board Representatives of 2023/2024:
Trainer: Julia Eder
Trainer: Rijck Teunissen
Board Representative: Romy Hardiek 
Board Representative: Thirza Moviat
Take a peek down below what their NMUN trip was like: